Welcome to BAGS!
Beautiful Aging Gracefully Seniors (BAGS) is a 501(c)3 tax exempt charitable organization dedicated to the care of senior and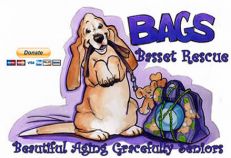 special needs basset hounds. Since 2000, Maribeth has provided both a temporary and/or permanent home for a number of different hounds in their various stages of life.
Learn More 
Busy BAGS Hounds…
Playtime!
Snack time!
Slumber Party!
Beau with his gifts from Falling For Bassets!
Buddy says hi!
Odie says cheese...
Emma enjoying her gifts...
Handsome Odie Modeling for Coastal Pets!
Socializing...
BAGS party in the sandbox...
CJ action shot!
Baxter Boo helping in the kitchen...